Message of Welcome
---
Dear visitors, YOWLI BURUNDI (Young Women's Knowledge and Leadership Institute Burundi) extends her warm welcome to you as a visitor of its website. This website was created to respond to the growing earnest desire to share our permanent presence to our partners and to all of you -- visitors from worldwide. This website will lead you where you want to reach: you will grasp what YOWLI BURUNDI is, our mission, our beneficiaries, our realizations together with our ongoing and forthcoming projects. At a glance, you will be able to explore and experience how youths are capable to serve as equal partners, activists and stakeholders in the achievement of the sustainable development. A quick reminder, as the name reads, we are gender-sensitive!
On behalf of YOWLI BURUNDI, I wish you a pleasant moment visiting us. With no doubt; our involvement, commitment, our work and our vision will exceed your habitual expectations.
Thank you!
Ms. Petronie Nyawenda
Legal Representative
---
What is YOWLI BURUNDI?
YOWLI BURUNDI is a youth-led and a youth-focused Initiative aiming the promotion of global health of Burundians. Our main motto is the use of youth as the engine of the change while promoting their leadership, with a particular focus on young women's leadership. It is a platform of proactive young people who feel their own responsibility to bring a positive change within the communities that they live in. We, Burundian young women and men gathered in YOWLI BURUNDI, are conscientious that the change does not happen of itself, we make it happen! We trust in our contribution while building the best world of our dreams. We are, not only the leaders of tomorrow, but also both the leaders of today and the equal partners and stakeholders in the achievement of the MDGs together with the Cairo Consensus as both of these Agendas aim the sustainable development. Throughout YOWLI BURUNDI, we want bring our significant contribution while addressing the following main challenges:
The fight against HIV/AIDS and other STIs;

The fight against GBV and, especially the Sexual Violence;

The promotion of SRH including the family planning;

The promotion of youth's leadership with a particular focus on young women

---
What are our Values
1. YOWLI BURUNDI activities are conducted under the light of the Charter of the National Unity of Burundi (no discrimination in any form whatsoever)
2. YOWLI BURUNDI wants human dignity to its beneficiaries based on good physical and mental health
3. YOWLI BURUNDI puts great importance to the work done in synergy with other actors.
---
NEWS AND UPDATES
YOWLI BURUNDI is the member of Beyond2015 movement and the action/2015 campaign.
action/2015 campaign - Global Day of Action "Finance for Development". Pictures from the youth rally, Kayanza, July 11th 2015
Beyond 2015 tools
Beyond 2015 position paper for the May post-2015 negotiations: "Measuring up to our ambition: Recommendations from Beyond 2015 on the Accountability, Monitoring and Review Framework for the Post-2015 Agenda" Link
Beyond 2015's official reaction to the zero-draft, for the June post-2015 negotiations full reaction. Link
Beyond 2015 political strategy is available here
http://www.youtube.com/watch?v=vaHmPUNr8BU
REPORT OF the Learning Route
1. Event Title: "Innovative tools to secure land rights for women" The Learning Route
2. Date: Rwanda and Burundi, from 4 to 11 February 2014.
3. Organizers: PROCASUR Corporation, ILC (International Land Coalition).
4. Objective:
Allow participants to really understand innovative approaches and tools suitable for different actors to secure land rights for women in Rwanda and Burundi. This learning route aimed to get lessons from these experiences and apply them to the other contexts. More precisely, this Learning Route had objectives to enable participants to:
identify key elements for the development and implementation of approaches and tools related to women land rights;

learn from the different local contexts in Rwanda and Burundi experiences to secure the women land rights through various tools and approaches;

explore the challenges facing today's practitioners to secure the women land rights, and to identify possible collective action to overcome them;

understand how the different tools and approaches can complement each other to secure the women land rights.
5. Conclusion:
Learning Route was an innovative event. Participating in the Learning Route allowed us, by exchange of experiences between participants and field visits to different organizations, to acquire knowledge on land rights, learn the various issues and challenges related to the land property as well as the strategies adopted to overcome them.
Visiting the Rwanda Women Network (RWN) concluded that the land in Rwanda is a gender sensitive issue, property and inheritance laws guarantee gender equality regarding the property rights.
The experience of the "Association pour la Paix et les Droits de l'Homme (APDH)" in Burundi showed us that there is a real need for political involvement, especially at the municipal level to ensure the sustainability of activities such as land registration that allows women to own lands.
As for the "Programme Transitoire de Reconstruction Post Conflit (PTRPC)", securing land rights in Burundi has partially improved thanks to the proximity and mobility services PTRPC. Some women become aware of their rights and were able to defend and to assert them.
Securing women's land rights is an absolute necessity everywhere and some actions have been taken by different actors but there is still plenty to do.
---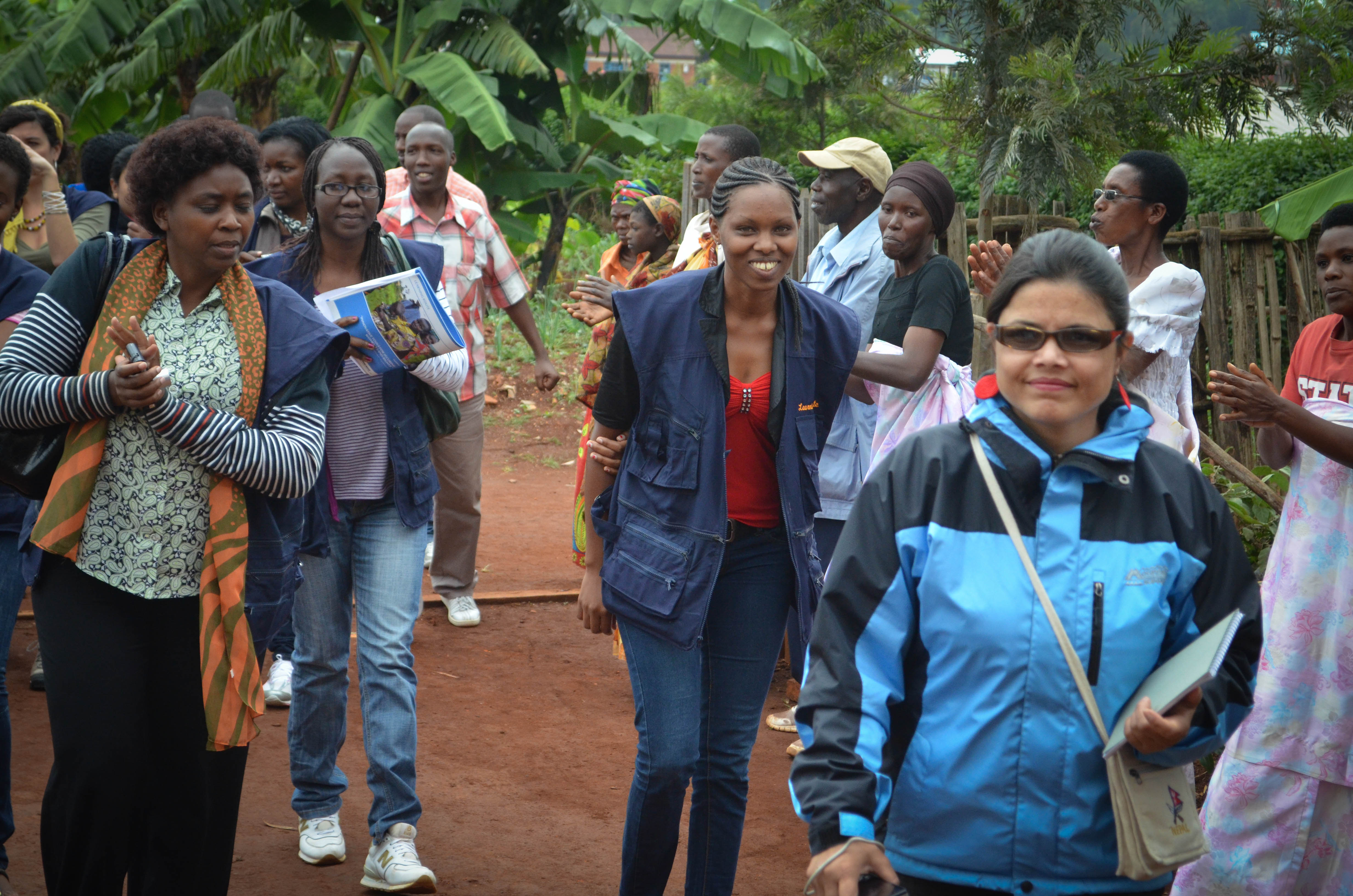 ---
YOWLI BURUNDI shared a new vision in regard to the AIDS combat.
---
The Synapse Center, in partnership with the International Youth Foundation, the YouthActionNet, the USAID and the MasterCard Foundation, selected YOWLI BURUNDI as one of the top 25 youth's innovative projects across Africa. To learn more, clik here.
---
YOWLI BURUNDI and FUCOS synergy at Gitega and Ngozi
From November 29th to December 1st , 2013, a delegation of 2 people of the synergy YOWLI BURUNDI - FUC
OS was respectively at Zege campus of the University of Burundi (Gitega province) and Kanyami campus of the University of Ngozi (Ngozi province). The purpose of the activity was an awareness session on HIV / AIDS and other STIs prevention on the theme: "The correct use of condoms»
Indeed, the synergy YOWLI BURUNDI - FUCOS under the material support of the United Nations Fund for Population UNFPA Burundi plans to provide 30 supply sites of condoms and 30 metal dustbins within Mutanga, Kiriri, Kamenge and Zege compuses of the University of Burundi, Ngagara campus of Hope Africa University and Kanyami campus from the University of Ngozi.
It is in this perspective that the synergy YOWLI BURUNDI - FUCOS grasped also the opportunity to make students aware of the correct use of the provided dustbins and the supply sites of condoms.
---
The AUYD 2013 is taking place in Tunis, Tunisia since 1 - 3 November 2013. YOWLI BURUNDI is invited to participate to this big youth gathering event. Clic here to access the whole AU Agenda 2013 including the African Union Charter on Youth
Youth Day is a day set aside every year to promote the increased recognition of youth as key agents for social change, economic growth and sustainable development in all facets of African Society. It is an occasion to celebrate the youth on the continent, opportunity to contribute and channel youth motivation, energy and creativity towards the achievement of Youth African agenda.
On the occasion of the African Youth charter adoption in Executive Council decision of Banjul Summit 2006 DOC.EX.CL./292 (IX) the 1st of November was proclaimed and instituted as "The African Youth Day"
The celebration is underpinned by the following principles
· Gather youth around the AUC vision and shared values;
· Value, share and celebrate young people contributions and achievements as agents of change at national and local levels and their capacity to engage with other people in development issues;
· Include more young people in decision-making and planning processes at all levels;
· Encourage youth to have a stronger role in programme development and imple­mentation that empower their communities.
Please see Below the Messages by H.E. Dr NKOSAZANA DLAMINI ZUMA, Chairperson of the African Union Commission, on the occasion of the 2013 African Youth Day in Arabic, English and French languages addressing African Youth!
---
People's Health Movement East Africa
PHM activists from Burundi, Djibouti, Rwanda, Kenya, Tanzania and Uganda are gathering in Kampala (Uganda). Clic thelink to discover more about this gathering
Two members of PHM Burundi (Ms. Nadine MISAGO and Mr. Roger CIZA) are representing the Country at this sub-regional gathering. The objective is to strategise and plan for a stronger people's movement for Health for All locally in their countries as well regionally. How to engage with Health for All - The Campaign, planning for advocacy and mobilisation and how to link struggles at regional level are only few of the agenda items.
YOWLI BURUNDI sent two delegates representing HHNB (Health Healing Network Burundi), a national network gathering many activist associations on health. HHNB is the legalrepresentative of PHM Burundi.
For more, please visit this link
---
The organization ICIRORE and YOWLI BURUNDI are now new partners
---
On October 24th, 2013; the UN System operating in Burundi,
in collaboration with the Government of Burundi through the Ministry of Higher Education and Scientific Research and the Ministry of External Affairs and International Cooperation, joined the World celebrating the UN Day 2013. The celebration of this remarkable day was held at CELaB within the University of Burundi. UN System Representatives and delegates, the Governement Authorities, the Academia and youth from the University of Burundi were invited to celebrate this DAY. YOWLI BURUNDI, the youth-led and youth focused NGO operating in the Academia was chosen to help organize this event.
After the official opening ceremonies and speeches, participants were invited to visit exhibition stands of UN Agencies realizations in Burundi. Participants were afterwards invited to suggest and give views in regard of the UN Agencies work and Agenda to be developped ahead.
"This year again, we saw the United Nations come together on armed conflict, human rights, the environment and many other issues. We continue to show what collective action can do. We can do even more. In a world that is more connected, we must be more united. On United Nations Day, let us pledge to live up to our founding ideals and work together for peace, development and human rights. "
Secretary-General Ban Ki-moon
---
The WHO Burundi is holding a two-day training on the HINARI research.
Seven members of YOWLI BURUNDI are among the beneficiaries of the training and will gain considerable skills for advanced researches.
---
The FENAS in collaboration with WHO and the Ministry of Health and AIDS Control
The FENAS (Federation National des Acteurs non Etatiques intervenant en matiere de Santé) in collaboration with the WHO Burundi and the Ministry of Health and HIV Control organizes a national workshop titled: "Atelier de Sensibilisation sur le PNDS et le cadre de Suivi-Evaluation".
This workshop is being held at the National Public Health School (INSP) and will late for two days; Thursday 19th and Friday 20th of September 2013.
YOWLI BURUNDI is being represented by Ms. Nadine MISAGO and Mr. Desire HABONIMANA. Great Speakers include Ambassador Albert MBONERANE and Dr. Benjamin NDAGIJIMANA.
---
National Workshop of HIV Strategic Plan 2013-2014
Yesterday 16 September 2013 has been held a national workshop of validation of the National Strategic Plan on HIV and AIDS.
This Plan is a co-plan shared by the Ministry of Education, the Ministry of Health and HIV Control together with the Ministry of Youth, Sports and Culture.
Were invited at the workshop International Partners of the Government (UNFPA, UNESCO, PSI, etc.), local NGOs including YOWLI BURUNDI, Service Yezu Mwiza, SWAA Burundi, FUCOS, ABUBEF, RNJ+ and some other NGOs.
This workshop was held at CEPRODELUC near the UNAIDS Office, the road towards KANYOSHA.
The report of the workshop will be available soon at the Office of YOWLI BURUNDI.
---
 National Workshop on the ICPD Agenda
This workshop will be held this upcoming week (16 – 20 September 2013). YOWLI BURUNDI will be participating to this workshop and; two of its members (Mr. Desire HABONIMANA and Ms. Petronie NYAWENDA) who have represented youths of Burundi at the ICPD Post-2014 Global Youth Forum 2012 held in Bali, Indonesia; will be among the key personalities of the workshop. More information will be available soon
---
YOWLI BURUNDI at the University of Burundi, Campus Zege of Gitega
On 4th of September 2013, YOWLI BURUNDI, in partnership with FUCOS under the support of the Ministry of Higher Education and Scientific Research (MHESR) was at Gitega
University Campus of Zege for a sensitization campaign on HIV/AIDS and other STIs. This activity of awareness campaign is an integral part of the Project implemented in all the Universities of Burundi (Private and Public) since two years ago.
YOWLI BURUNDI recognizes and extends its gratitude to the SEP/CNLS for its continuous tremendous financial support.
Illustration pictures will be available very soon
---
The Youth Pre-Conference and main Conference of the African Regional Conference on Population and Development (ICPD Beyond 2014) to be held in Addis Ababa September, October 2013
The African Regional Conference on Population and Development, co-organized by the Economic Commission for Africa, African Union Commission, United Nations Population Fund and partners will conduct a youth pre-conference prior to the main conference. The youth pre-conference will ensure that young people across the African continent have a co-ordinated, recognized representation and voice in the process and its follow up. The outcome of this pre-conference meeting will be formally acknowledged and incorporated in the main conference outcomes
---
 YOWLI BURUNDI at Gitega, week of 2 – 6 September 2013
Under the financial support of the UNFPA Burundi YOWLI BURUNDI held a training workshop
for up to 30 members on HIV/AIDS and other STIs, SRH including the Family Planning, GBV and the Technologies of Communication. This week-long workshop was held at Centre Tereziya of MUSHASHA (Workshop venue).
---
YOWLI BURUNDI has opened a new office
The office is located at the following address: 28 November Boulevard, building HASTOTEL (in front of the Military Hospital of Kamenge), ground floor. The opening hours are Monday through Friday the working hours. Sometimes, the office is opened during week-ends for emergency issues.
You are welcome to visit the new Office of YOWLI BURUNDI.
---
Desire HABONIMANA at the Global Youth Forum, Bali,
Indonesia
For more, visit the link of ICPD Global Youth Forum
---
Pictures from the training workshop of Gitega, week of 2 - 6 september 2013
These are the pictures taken during the first-day training on HIV/AIDS and other STIs. It was delivered by Dr. Tharcisse NSHIMIRIMANA from the Service Yezu Mwiza (SYM).
Participants were having group work activities during which they interacted and gave concise ideas.